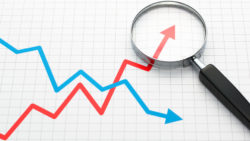 It's a new year, and that means it's time for you to freshen your direct marketing strategy to reflect the current trends and best practices. One of the first changes is the recent
USPS rate increase of 1.835%,
. That means you'll need to refine your mailing strategy and cull your list of leads to be more effective with less expense involved. There are a few trends that are prominent this year, and the
influence of direct marketing
is expected to increase over the next two years. Here are three trends with the most potential staying power.
Personalization and Authenticity Lead to Engagement
In an increasingly impersonal world, people are becoming more nostalgic for a personal touch. They're also looking for something real. Postcards and other direct mail media offer a chance for both. Using simple graphics, color schemes that evoke emotion, and images that tell a story, you'll draw customers in. Each postcard can be personalized with a simple yet effective message, a clear call to action, and signed with a realistic digital signature.
Combining Digital and Print Media
Artificial Intelligence (AI) will never completely replace human input and digital media will never completely replace tangible mail that you can hold and read. It works best when you use one to enhance the other. The resurgence in the popularity of print media provides opportunities for marketers to combine it with digital platforms in creative ways. Use your direct marketing to generate interest, driving customers to your physical location while creating a solid online presence. Think of your mailers as the bait that reels them in and your digital platforms as a form of engagement that builds brand recognition and loyalty. Create a uniform appearance across all platforms, including logos and other distinct features. You can also include links to your social media profiles on your mailers, and offer free downloads, resources, and other extras that add value to the experience.
Programmatic, Data-Driven Mail
Look for the word 'programmatic' to crop up a lot in industry forums. This trend takes the data-driven approach used for customized digital marketing and applies it to direct marketing. With this technology, you'll be able to gain a precise insight into buying habits, lifestyle preferences, and other information to create highly detailed customer profiles. This allows you to produce personalized solicitations on a customer-by-customer basis. The technology also exists to make this whole process automated. Using the right apps and programs, with a little help from the Postlead automation system, you can gather data, analyze it, create and test your message, and then coordinate automated distribution and follow-up by lead segment or any other criteria you choose.
Postlead Helps You Refine Your Marketing Efforts
Our automated system allows you the creativity to capitalize on current trends and the flexibility to tailor your approach on the spot. We also offer cost-effective plans that are non-binding and all-inclusive. That means you're not locked into a contract, and your postage is all paid for. We'll even work with you to generate industry-specific leads to help grow your customer base. Request a
free trial
here and see how it works for you, or
reach out to us
for more information