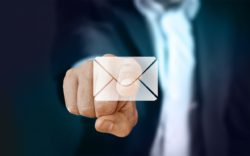 Your consulting firm helps many different types of businesses in different industries, or maybe you work in a niche sector of consulting and you only serve a certain industry. No matter what, direct mail marketing can help your consulting firm reach the type of prospects that you are aiming for, and you will also be able to build loyalty with your current clients if you use direct mail marketing wisely. You can get creative in your approach and use direct mail marketing in many different ways, but first let's talk about the benefits of using direct mail marketing for your consulting firm.
Makes Following Up with Prospects Easier
When you incorporate specific direct mail marketing tactics and tools it is a lot easier to follow up with prospects, especially when you have an automated direct mail marketing dashboard. This allows you to have a broad view of every prospect who has been targeted by your direct mailing campaign. Using this dashboard, you will get to see what their responses were, and whether they were direct or indirect responses such as browsing your website, inquiring to know more, or even setting up an appointment with you. Direct mail marketing strategies that tie in with tools to allow for easier follow-up methods are often easy to use and manage for most consulting firms.
Improve Relations with Current Clients
Direct mail marketing is not only beneficial for prospects but it's also great for the customers and clients that you currently serve. You can reach out to your current clients about any add-on services that you may have to offer, and you can even just reach out to them in order to get some verifiable feedback on your consulting services overall. Through the use of direct mail marketing for your current clients, you will be informed enough by their responses to provide even better consulting services to them and prospective clients in the future.
Higher Response Rates
The response rates for direct mail marketing are much higher than response rates for online marketing. Even when you combine online marketing efforts such as paid search, email marketing, online display, and social media you will still stand to gain more responses through direct mail marketing alone. If you want your promotional campaign to have a better chance of reaching the prospective clients that you have in mind, then using direct mail marketing has the potential to get you those results a lot more efficiently than any other marketing tactic.
If you own or work in a consulting firm that is looking to incorporate some innovative direct mail marketing in order to get more prospects or to retain the current clients that you already serve then you should 
contact us
. 
Postlead
has a team of marketing and technology experts who can help you to use targeted, automated, and personalized methods that can put your consulting firm in a better position.