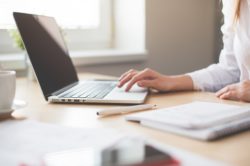 Lead generation strategies have become increasingly complex even though they don't have to be. With each new technological advancement that has come out, businesses have been attempting to keep up with these changes often for the sake of losing current and potential customers. Whether you use traditional or digital tactics to go about conducting your lead generation strategy, you'll fare much better if you choose to personalize your approach. It's likely that your leads are bombarded daily with both online and physical messages from other businesses. Since the majority of the information that they are receiving comes in a digital text, it would catch their attention to receive mailings and information that is handwritten. We can show you how to accomplish this in both digital and traditional lead generation without you having to go through the time-consuming task of writing out each letter or coding new fonts for your online mailings.
Step One: Proper Name
When it comes time to address your leads, we know how tempting it is to want to send out the message as quickly as possible. Writing out a simple 'greetings' or 'hello' with no direct addressee can get your letter tossed to the side. It's important to make your lead feel important. Take the time to spell their name properly and include it in the message. If you are sending your letter to another business, then be sure to use the proper job title or role for that person. It's one of the simplest things that you can do, but it can make a big difference in the responses that you get from these leads.
Step Two: Online Solutions
No matter how you send out your original mailing to your leads, we can help you route them to a digital platform that tracks their engagement with this particular campaign. You can include a QR code on a mailer or postcard. You can even add a link within an online message. Just be sure to make it easy and also exciting for leads to follow through to this next step. This link should be personalized to capture their activity. It will help you to see who is more likely to convert into a new customer for your business. There is a lot that you can do to personalize your traditional and digital lead generation strategies, and we can help. As long as you are making an effort to personalize your strategy to convert your leads and track their activity, then your business will be in a much better position than if you had neglected to do so. Once you've accomplished a method that works well for your business, then you should continue on that path. AtPostlead we know that there are many avenues to marketing success, and through automation and personalized strategies, we can help you get there. All you have to do is contact our team of experts, and we'll take it from there.