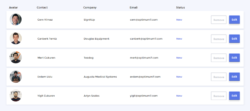 Generating leads can seem like a major undertaking especially if you're just starting out as a business owner and even if you've hit a sudden dry spell in your business. Lead generation doesn't have to be difficult when you follow some basic guidelines to maintain a steady flow of customers and clients for your business.
1. Crafting the Proper Message
Developing messages that are personal and specified to suit your prospective customers is one of the best ways to get your target audience's attention right away. You have to be sure that your message is designed in a way that addresses them by their name, clearly states your intent, and offers them an opportunity to respond immediately if the offering appeals to them.
2. The Art of the Approach
It doesn't matter if you are contacting prospective clients and customers online or through direct mail marketing, you want to make sure that the way you are approaching your target audience is distinct and pleasant at the very minimum. They don't have much time to spare in order to hear every marketing message that they are constantly receiving in today's environment. Approach them at a time when they will be more inclined to receive your message. Ideally, this would be during non-peak hours and days for email marketing. For direct mailing this could be virtually any time, but try to reach them before the peak marketing and sales times are fully up and running such as the winter holiday season. There are so many messages that they are inundated with all day long, and you don't want to get lost in a sea of all of the boring and spammy messages that are out there. Make your message stand out in a way that appeals to their interests and even sparks their curiosity.
3. Thorough Research
Starting out with solid research about your target audience and their habits is the most ideal position to be in when it's time to create an actionable plan for your lead generation strategy. There are several different ways to go about doing this. You can delve into the research patterns and habits of past customers, or conduct new research on your ideal customer or client type. There are also resources available so that you can buy leads. All you have to do is describe the type of customers that you're looking for, and you will be able to eliminate all of the legwork of hunting for those that you've described. When you're generating leads there are several different avenues that you can take to accomplish your goals, but always make sure that you're choosing the route that allows you to emphasize the creativity and significance of what you do rather than depleting yourself in the process. You don't have to do all of the work alone or even have your team bear the weight of figuring out how to employ these simple strategies. Postlead offers several different options and services for businesses like yours. Simply 
contact us
 or visit 
postlead.io
.