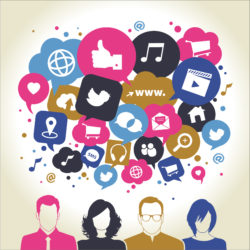 Being able to make contact with potential and past leads is a very important part of any successful business. While advertising is an effective way to connect with new customers, directly connecting with them can add a personal touch to your efforts and help to swing a potential customer in your direction. If you are looking to generate more leads for your marketing campaigns, then one way is to use a combination of a social and direct mail service like Postlead. Let's take a few minutes to look at three ways that you can generate more leads using Postlead.
1. Connect with Customers on Your Terms, But Make Them Think It's Their Idea!
One of the first things you need to do when you're engaging a new potential client is to get them to see your message. In the old days that was not so easy, but now you have the power of the internet to help you. With a service such as Postlead, you can intermix a powerful set of social media tools with traditional direct mail marketing to get a much more comprehensive approach that gets better results. With Postlead, you can get more prospects on your list by engaging with them in a pseudo-cold contact situation. Social media engagement allows you to add them to your potentials' pile and then personalize direct mail that allows you to further engage with them and get you closer to closing the deal.
2. Get Personal & Get More Leads
Through customization, you can tailor the message directly to the prospects you want to target. This means that you will get more effective results. The digital outreach of the toolset offered by Postlead lets you tailor the marketing campaign to the exact specification that you need to reach your audience like never before. Combining traditional direct mail, social media integration, and digital outreach means that you will be able to list, contact, and convert in ways that you never thought possible. It has been shown that a personalized approach gets more potentials to turn into leads and that those leads have a much higher rate of conversion into customers than leads that come from generic acquisition methods.
3. Track Your Mailings So you Know Exactly What Works and What Doesn't
Once you have sent out your mailings, it's time for you to track and follow these direct contacts with your customers. It used to be that you'd just throw the same message out to the world and hope that it would get a reply, but with a more personalized and multifaceted engagement approach you can tailor your message to the specific tastes and interests of your potentials and increases the chances for conversion. The most effective way of doing that is to track the contacts that you have with your list members and understand in depth what is getting a response and what is falling on deaf ears. With Postlead you can get detailed analytics that show which of your campaigns is working and which ones need to be adjusted or scrapped altogether. Unlike similar services, you get these analytic in real time, and they are presented in a way that is easy to understand and therefore easy to implement into your marketing strategy. If you are ready to take your business to the next level, then you need Postlead to get a personalized direct mailing solution that is right for you. Sign up for a
free trial
to see how our multifaceted mailing solution is the tool your business has needed. Head over to the
Postlead
website and get started today, you will be glad you did.