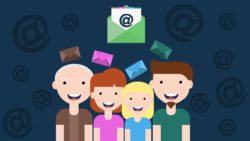 Those who think direct mail is obsolete are missing an important opportunity to grow their business. Direct mail is generally considered more legit and reliable than email, and more likely to get a response. This is especially true of millennials and older consumers, who are either jaded by digital advertising or distrust it completely. In fact,
 70% of customers
prefer to receive unsolicited offers in their mailbox rather than their inbox. The
average conversion rate
for direct mail advertising is from 1 - 3%. Here are five ways you can make the numbers work in your favor and generate more leads.
1. Tailor your Message Based on the Lead
Create clean, segmented mailing lists. You'll naturally expect a better response rate by mailing to existing customers than you will with an outside list of leads who have no previous relationship with your company. Tailor your message to appeal to different type of leads.
2. Sales that Work
Many direct mail advertisements get a good response by offering freebies, but those responses don't necessarily convert to sales. Instead of offering a complimentary session or free sample, try making a price offer such as a buy one, get one or a discount on purchase.
3. Catch Their Eye
Your mail campaign won't work if it gets buried unread. Try putting your offer on an oversized postcard or using graphics and images that make them want to read further.
4. Make Your Offer Scanable
Most people lead very busy lives, and they have a lot of information to sort out from day to day. You have about five seconds on average to catch their attention or lose it. You can test the effectiveness of your message by getting objective feedback. Show your mailer to a third-party, and give them five minutes to look at it. After the allotted time, your test subject should be able to answer three basic questions: - What is the product or service being advertised? - What is the offer? - What action are you being directed to take to accept the offer?
5. Quality Over Quantity
Consider the quality of the leads, not just the number. This ties back to relevance. Almost anyone will respond if you offer them something free, even if it's meaningless, but that may not make them purchase from you now or in the future. Offering something of value that encourages a sale, and you'll turn a cold led into a future customer. Direct marketing is effective, but it isn't a strategy that will work on its own. It should be one plank in an overall marketing platform that includes digital and mobile advertising as well. Combining these tips with an automated system offers a great ROI that goes beyond money; the
average increase
seen by combining DM and other marketing platforms is 20%.
Postlead Helps You Work Smarter, Not Harder
When you're ready to get your direct mail marketing campaign underway, Postlead is the platform that can help you do it right. Our system is based on more than three decades of marketing, design, and programming experience. We give you the tools to target your market with effective messaging, and the analytics to make sure your efforts are getting results. We'll even give you a
free trial
so you can check it out.
Contact us
to learn more.