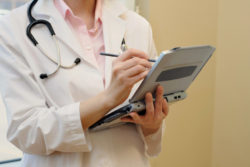 As a modern professional, you realize that digital marketing is a necessary part of promotions. As a doctor, you know that your services are personal and require something less generic than email. Automated direct mailing software gives you the best aspects of digital and traditional patient outreach, and you can integrate it seamlessly into your current business promotion model.
What Are the Advantages of Direct Mail for My Practice?
Direct mail is one of the most basic facets of patient outreach. Unless it's in an emergency or referral situation, doctors usually develop long-term relationships with their patients. The nature of that relationship alone requires a more personal approach in order to build trust. Targeted mailers that are hand-written and addressed to a specific recipient are tangible and personal items that your contacts can hold in their hands.
Here's how to do it right:
1. Define Your Purpose
Are you reaching out to your patients with health information or trying to bring back faces you haven't seen in a while by offering a discount? Decide what you want to say and why, and then divide your list into groups by goal. Craft a personalized, purpose-driven message to address the contacts in each group.
2. Keep in Touch with Follow up
Follow up is how you turn a lead into a new patient or prevent customer churn. Rather than just generating bills or appointment reminders, keep in touch throughout the year with thoughtful acknowledgments. Some suggestions include news or announcements, birthday or holiday greetings, and welcome messages for new patients.
3. Keep it Personal
Address the recipient warmly and by name, and add a signature. Modern direct mail software allows you to add a 'hand-written' message to as many or as few contacts as you wish. Templates ensure consistency while allowing you to tailor each message to the person.
How Does Automated Direct Mail Software Work?
Automation ramps up your efforts with less work and expense by allowing you to segment your marketing efforts and target specific messages to different groups. Unique identifiers on each mailer enable electronic tracking so you can gauge response and tailor your messages further to follow up. For messages that require a specific action like visiting a website or landing page, the automated system tracks everything electronically and generates reports. This is much more effective than sending out thousands of mailers in a geographic area and hoping they worked.
How Postlead Works With You to Make Direct Mail More Effective
Shooting a patient an email to confirm an appointment is one thing. But, if you want to build a rapport and engage your patients in a meaningful way, direct mail gives your correspondence a personal touch.
Postlead automation
helps you do that. We've developed a comprehensive platform that puts you in complete control of your outreach while saving time and money. Our program allows you to send personalized, signed postcards and greeting cards with targeted messages that will compel a response. We also offer a robust platform to track, refine, and redirect your follow up efforts where they'll get the best response. It's truly a 21st-century solution to an age-old problem.
Ready to Get Started?
We offer three plans without requiring contracts or monthly obligations, and there are no surprises or hidden fees involved; your postage and mailing materials are even included in the price. You can
request a free trial and start today
or
contact Postlead
to learn more.