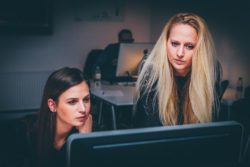 The days of generating leads and then having to convert them into sales all by yourself are long gone. Using creative outreach tools can significantly increase the time and cost efficiency of your business. Painstaking measures no longer have to be taken solely by you to help you land clients for your business. We know that you always work hard, and you're willing to work even harder to land clients. We're here to tell you that the secret to landing more clients is not working harder, but in using creative outreach tools that can help you to secure those clients without adding any sweat to your brow.
Invest in Sustainable Solutions
In each business, no asset is more valuable than the people who work there, this is why you have to take care of yourself as a business owner, and why you also have to take care of the people who work with you as well as for you. You can run machines incessantly, but people are different. You can't work a person into the ground day after day and expect them to perform their best every single time. It's time that you used something much more sustainable. Implementing creative outreach solutions can keep you from overworking yourself and your employees, and this is a far more feasible way for you to run your business as opposed to increasing the workload for everyone. Under that increased strain, even if you do land a new client, your performance for them will reflect the stress that you're facing.
Take Advantage of Ongoing Support
Another advantage of using a creative outreach tool is being able to have continuous support so that you can get help or have questions answered at any time that you need it. You don't have to wait for assistance; the assistance is already there. This support will help to shorten the time between looking for new clients and landing new clients.
Enjoy the Time-Saving Benefits of Automation
Automation is one of the best parts about using a creative outreach tool. Just set it, and it's ready to go. You can automate your mailings so that you don't have to send them all out individually on your own. Creative outreach tools quickly send out mailings, and this frees up your time so that you can mostly focus on responding once prospective clients begin contacting you.
Analysis/Tracking
Another significant component of using a creative outreach tool is the fact that you get to track the performance of your marketing campaign. You can find out who opened your messages, and it will help you to determine what you should do the next time that you start up a marketing campaign. You'll have a better idea of how to get leads to convert once you begin analyzing and tracking your messages.
Contact the team
at Postlead to get a better understanding of how we can help you land clients today!