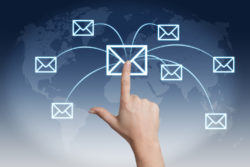 Using personalized direct mailing has always been one of the most popular and effective ways to reach out to prospects. There are many benefits of using personalized direct mailing that you'll wish you had realized sooner. However, it's never too late to boost your outreach strategy results!
Engage Targeted Groups
Whatever your business is, you have access to a targeted group of prospects that are more than willing to listen to your message. Having such an engaged audience is definitely worth the time and investment it takes to send out personalized direct mailings. It's important to engage your target group with personalized direct mailing because it can help the overall progress of your outreaching your goals. Your message will be read by the type of audience that most other businesses pay top dollar to access. Also, your approach to these prospects may be different based upon factors such as, re-engaging prospects, or engaging new prospects that have moved to the area recently.
Use Innovative Tracking Methods
Being able to track your direct mail marketing message performance by using a specific phone number that is connected to the campaign can help you to know which calls are coming as a response to your message. You can also use a specific link that your message recipients can access through your direct mailing that will help you to track their online activity when in regards to your personalized direct mailing message. You can use the information from various forms of tracking to pinpoint which types of prospects are more responsive to this form of outreach through your analysis, and this will put you in a better position next time that you send out your mailings again.
Make Your Message Stand Out
Personalized direct mailings, especially in the form of postcards, can stand out to prospects when the message has been written and presented in a way that grabs their attention. Using images for personalized direct mailings that your prospects can relate to is also a plus.
Keep it Short, Keep it Simple
Also, keep your message short and to the point, without eliminating key information that would make prospects want to jump at your offer immediately. Use what is unique about your business, services or products, to stir emotion in your prospects. If your business can use some support in the outreach area, then we can be of service for your personalized direct mailing leads. We have a supportive staff here at 
Postlead
 that is just waiting to hear from you, so 
contact us
. We look forward to assisting you in getting your prospects to notice all that you have to offer.