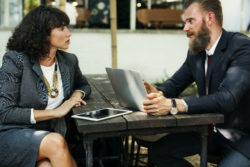 Generating more leads is the goal of practically every business owner. You can rely on us as a marketing solution that can help you to use automation and personalized outreach to help you generate 50 or more leads in your business.
The Benefits of Using Landing Pages
You don't have to create different landing pages for each campaign or promotion that you do. We take care of that for you. Our auto landing page function allows us to convert your website visitors into customers. Once your leads arrive on your landing page they will make the next step towards qualifying themselves as a lead worthy of pursuing until they convert into new clients and customers. The beauty of this is that you don't have to worry about what to say or how to present the message. We know what works and we'll employ it in a way that works best for your business.
Following Up and Track Activity
We can lead your web visitors to website links that are integrated with an online marketing platform that will track their activity. First, we send out an authentic personalized message to them through physical mail or email, and within this message we create a link that they can easily access that will route them to a web link that will track their activity. You can present us with the contacts that you already have or you can select a package from us where we help you to generate contacts. In either instance, your leads have a higher likelihood of converting under our automated system of tracking their behavior and activity online.
Create Personalized Messages
When you create a message for your leads, it's worth making it personalized and meaningful to them. You don't want your hard work and creativity to go to waste by forgetting to address your lead by name or not using their proper salutation or title. Using personalized outreach will help your business to capture the attention of some of your most sought after leads because it will help you to connect with them on a much more personal level. Use personalized outreach and you'll notice a significant difference in how your leads respond to you.
Receive Full Reporting of Your Mailing Campaign
We are able to give you a full report of your campaign's performance from our end as well as a detailed report of how your list of prospects reacted to the campaign. You'll be able to see everything that we did to enhance your message through our automation and personalized outreach strategies, and then you'll get the chance to see how your leads responded to what we've done together.
Collaborate with Postlead!
We see working with you as a collaborative effort, and we want to be transparent in our efforts to effect the most positive change for your business and for your prospects. This is why we deliver such a thorough performance review. This helps us to do our work well, and to serve you even better on future campaigns. 
Contact us
 so that we can find the best Postlead package to suit your needs.