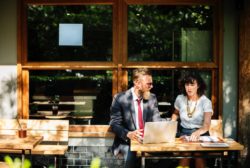 What if we told you that your business could stand to gain at least 15% more prospects just by using one simple tool? One thing's for sure, you'd definitely want to know how that was possible. We can gladly show you how to get these results while using an affordable marketing solution that will completely change the way that you promote your business.
Track Each Mailing
You don't have to wonder about the status of each mailing that you send out. We understand that a major concern for business owners who send out personalized mailings is knowing whether or not all of those mailings were received or even opened by recipients. Many times you don't know whether or not a potential client has received your mailing unless they've responded to you. While tracking responses is a good thing, it also helps to know who is opening your mailing even though they haven't responded. There is a chance that at the moment of receiving the mailing that they were unable to make the investment into your current offering, or they may not know how to go through with the transaction. Knowing this will help you to be more strategic when you send mailings to them in the future.
Test Messages
You can send better messages to your prospects by testing them out first. You can catch typos and mistakes before they go out to your leads. Testing your message can help save you a lot of stress because once you send out a message that is filled with mistakes and incorrect information your prospects will feel as you don't care about how your message is composed, therefore you will be equally careless in delivering your products or services. You'll find it hard to get them to listen to any other message that you may send to them in the future.
Creating Content
When you choose us as your marketing solution, we give you the opportunity to create a video message and an auto-grab screen shot on your website to help your personalized mailing strategy. We're more than happy to help you understand the process, but we won't put more work on you than you can handle since your job will be to engage with prospects who inquire about your products and services.
Continuous Support
It doesn't have to be a lonesome road when you choose to go with a marketing solution like 
Postlead
. We offer plenty of support so that you can reach out to us, and we'll be there to help you understand anything that's not clear to you. We also give you further assistance through our services that will grow just as your business requirements continue to grow. If you require more attention, then we offer a package that is detailed and thorough enough that will help you achieve the results you want for your business. 
Contact us
today! We're here to help you gain more prospects in your business.