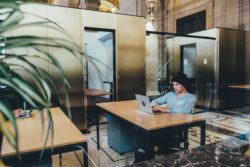 When it comes to spending your marketing dollars, there is no shortage of options. You could buy social media ads, create an email marketing campaign, try pay-per-click, or even go old school with print, radio or TV ads. The choices can be overwhelming. But if your company is like most, your marketing dollars are not limitless, so you want to choose the method that will get you the most leads and conversions for your money.
That would be creative direct mail marketing. Here's why:
Creative direct mail marketing leads to 5 – 10% conversion rates – significantly higher than direct mail or email marketing alone, and by far the highest conversion percentage of any mass marketing method.
It combines the best attributes of tried-and-true direct mail with the best attributes of digital marketing for synergies you won't find with any other method. It's customizable and personalized to every single contact on your list.
It's cost effective. You don't pay an agency, and you don't pay a monthly fee. You only pay for each campaign you conduct based on the number of contacts you're targeting. And you can even try it for free.
So, What Is Creative Direct Mail Marketing?
Creative direct mail marketing combines the best features of traditional direct mail with digital marketing. You get the targeted personalization of direct mail combined with the engagement of digital marketing to produce the most effective marketing method available. Postlead is the world's first creative outreach direct marketing company. Our unique system sends out a personalized postcard or greeting card to each contact on your list. If you don't have a list of contacts you want to use, we can provide one for you, based on the demographic criteria you specify.
Postlead Explained In More Details
Each card contains a unique code that the contact can enter on your website to view a customized video about your product or service. This gets the contact to engage with you on your website, and get a comprehensive view of your offering. All of your contacts are tracked in your business dashboard, including their behavior while on your site. Your sales reps can see which contacts are the most promising and they can concentrate their efforts on that group.
Only Pay When You Need It
With Postlead, you pay for each campaign as you conduct it. There's never a monthly fee. When you are ready to launch a campaign, you can choose your package based on the number of contacts you have and the services you want. If you're looking for a way to reach contacts that is unique and most importantly effective, look to Postlead, a creative direct mail marketing alternative. You will have more contacts at every stage of the sales funnel, which always turns into more conversions and more sales.
Postlead
 provides personalized, trackable direct marketing outreach for any type or size of business. 
Contact us
 to see how Postlead can bring about more conversions, more sales and a healthier bottom line for your business.