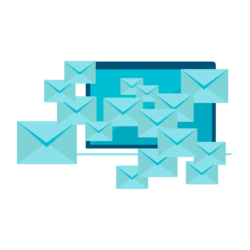 Local businesses and startup companies need every advantage to stay afloat with competitors who have bigger budgets. One of the biggest necessities to hit the ground running is a well-planned, strategic direct mailing campaign. If online technology is used correctly in these campaigns, a strong message can be released to potential clients at a relatively low cost. Since most of this electronic direct mailing technology is available to anyone with internet access, it is important to incorporate items in your message that separate you from everyone else. Postlead, a software designed to enhance digital direct mailing, has resources that allow you to provide this separation.
Postlead's Personal Involvement
Very few direct mailing marketers will argue against providing a personal touch when dealing with potential clients. Good marketers know that a comfort level for their contacts needs to be established in order for them to make the transition from contact to client. When the quantity of contacts continues to develop, providing a personal comfort level can be both time and financially restrictive. Some marketers are forced to either separate themselves personally by sending identical material to every client, or suffer a financial hardship by hiring individuals that can continue to provide personal attention to clients and contacts. Postlead contains a digital dashboard that displays your contact list and allows you to easily edit both demographic and other more personal information. This translates into electronic mailing that is personalized. Instead of your contacts all getting the same form letter, the contacts will receive a message catered specifically to them. These details bring direct mailing marketers one step closer to a potential client's comfort level.
Editing and Eliminating
Postlead's technology lets a user track the information sent to a contact. You can not only see if your potential contacts are opening the digital mail, you can also see how long they are spending on videos and other web pages from the links you've provided. This information allows direct mailing marketers to distinguish where to best invest their time. Once you've edited your contact list to reflect those who will benefit most from your future efforts, you can eliminate those who may be better suited with other businesses. These simple steps exponentially increase your contact-to-client percentage ratios, as your efforts will now be focused on only those contacts who will be most receptive to your message.
Easy Software, Easy Start
One of the main benefits of Postlead software is the time it saves those involved in digital direct marketing. It's easy to use and combines the most-needed marketing resources in one simple program. The versatility it offers allows users to send personalized messages in either the form of a digital postcard or a letter with a handwritten appearance. Postlead offers a free trial to let you test its convenience and resources on up to 10 of your contacts. Visit
Postlead
today for more information on its packages that have no recurring monthly costs or contractual obligation. For more detailed questions, visit Postlead's
contact page
and submit a form to customer service.