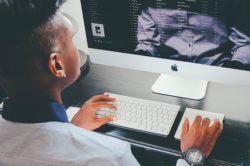 Some businesses have been running low on creativity when it comes to finding new leads. We know this because our virtual and physical mailboxes are flooded with unwanted solicitations that generally say the same thing. All entrepreneurs and even large corporations are even guilty of sending them. It's really about how we communicate! In most cases, the email campaigns are 3-5% effective, so we keep sending these emails, but it never seems to be enough.
What About Postal Mailing Campaigns?
Without a strategic marketing plan, traditional postal mailing campaigns are a gamble too. The cost of paper, postage, and envelopes can amount up to money thrown right in the shredder—which is where most, if not all of your mailings go when and if it reaches the decision maker. Sure, there's social media, but not all of these decision-makers are scanning social media for business-related purposes. Some of them may not even have a social media presence at all! That's when you have to get creative and think of a unique way to generate leads for your business. You may think that you've done it all—from attending networking soirees to knocking on the door yourself, but there is a way to do all of that without leaving your desk.
Postlead!
Postlead is an automated greeting card system. It personalizes small to medium sized businesses' direct mail outreach to help them generate new and hot leads.
How is This Different from Regular Mailing Campaigns?
Postlead combines traditional mailing and email marketing. Through this new marketing platform, you will be able to send out a bulk mailing that personalizes a message to each recipient. With regular mailing campaigns, you mail out your message, cross your fingers, and hope for the best. For an additional amount of money, you can track the envelope to ensure that it arrives at its destination, but it ends there. You just wait. And you wait.
Get Instant Results with Postlead
With Postlead, you have the ability to track who actually opens your mail thanks to a special code that you can assign each recipient. The recipient then enters that code onto YOUR WEBSITE to view a personalized video message (which is optional) addressed specifically to them! Once they've entered their personal code, you now have the data to review how long they were engaged. This gives you the ability to follow up on these people, converting them into actual leads.
This is all done in 4 easy steps:
Import a contact list and customize the fields.
Type in your content.
Record a video message and upload it.
Place the order and send!
You can begin your postcard mailing campaign in increments of 100, 500, or 2,000 starting out at $500, but right now, you can sign up for a FREE TRIAL to see for yourself how effective this unique marketing strategy is.
Automated Mailing at Your Fingertips
Postlead
gives you the ability to handle everything automatically. With our simple step-by-step instructions, you'll be able to create a unique greeting card with your logo and your recipient's social media picture. After your mailing campaign has concluded, you'll get a detailed analysis of all the recipients who opened your mail. Thanks to the video feature, you'll be able to directly communicate with prospects, making a more personal approach.
Sign up
for a free trial today, or
contact
a Postlead representative to learn more about our Basic, Premium, and Ultimate package.